How didn't the Preseli bluestones get to Stonehenge? Ask your maths teacher.
I run the risk of posting on an often repeated topic, but here's my opinion for what it's worth.
The late Neolithic temple (or whatever) of Stonehenge, on Salisbury Plain, England, is constructed from two types of stones. These are the large 'sarsens' and the smaller 'bluestones'.
The sarsens are large slabs of a kind of rock called silcrete. Silcrete forms at the bottom of a sandy soil profile under semi-arid conditions in landscapes where there is little erosion. Silcrete once covered much of southern England. Now it is limited to small pockets in North Wiltshire, such as Fyfield Down and Lockeridge Dene. Whilst a bit of a schlepp, Neolithic oxen and people probably could have dragged silcrete blocks the twenty miles from these locations to Stonehenge. Whether they did… ?
Bluestones are a series of varied rocks which have their origins, for the most part, in the Pembrokeshire peninsula of South Wales. They are largely igneous rocks (similar to lava) which have experienced a small amount of metamorphism due to their deep burial in the Earth before they were brought back to the surface by erosion in the last few million years.
How to move the stones

There have been untold words written about how these South Welsh igneous rocks got to Salisbury Plain. Two sensible methods have been put forward, each with variants.
The People Method: people quarried or collected the bluestones in Pembrokeshire, then brought them to Salisbury Plain by boat across the sea and pulled them the last part of the journey.
The Ice Sheet Method: the bluestones were broken off by an ice sheet (a kind of very large glacier) in a cold period around 400,000 years ago. As the ice sheet grew it spread to Salisbury Plain, or at least quite near. When the ice sheet melted it left the bluestones behind as what are known as glacial erratics.
For and Against
The arguments for the People Method are that the bluestones are similar in size and many are similar in composition. Most appear to have come from the Preseli Mountains and there is little evidence for other Welsh rocks on Salisbury plain.
The arguments for the Ice Sheet Method are that the stones are, in fact, quite diverse and even include a stone from far to the east. If there were an ice sheet, modelling suggests that it would be travelling in about the right direction to end up at Salisbury Plain. Finally, and most importantly, it's an absolute bastard to carry a stone as big as a bluestone across the sea by boat, let alone drag it the last bit of the way to Salisbury Plain.
Now from a pure sense argument I'm very much inclined to support the Ice Sheet Method. It involves a simple natural process. It doesn't ask people to do something that they haven't done at almost any other stone circle, which is use non-local stone. It doesn't demand the impossible or our poor feeble ancestors in their hide covered boats. Whilst the romantic in me loves the epic effort involved, the engineer wipes oily stains from his hands and says "Naa, not a chance, mate."
But… something is niggling. It's a small thing, but I can't help thinking about it.
Neolithic Statistics
Glaciers and ice sheets are renowned for their lack of selectivity when it comes to stone collecting. Due to their bigness and force they can pick up any size of rock, from grain to boulder, on their frozen undersides. And they do. Also, because ice sheets and glaciers behave like one solid (well sort of solid) mass they can carry the small and the large with equal ease.
But when the ice sheet finally melts it dumps everything, from grain to boulder, in the same place. Unlike many other geological processes, ice sheets are astoundingly untidy. However, this jumble of rubble will tend fit tidily in one thing though – the statistical bell curve of size distribution by weight.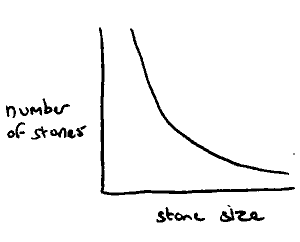 To explain: An ice sheet could pick up a really large boulder but it wouldn't pick up many because their aren't that many around. But with smaller rock chunks the ice sheet picks up more of them because there are more of them. So the ice sheet will be picking up thousands of tiny pebbles at the same time as it picks up one large boulder. So you get a graph of number of stones vs stone size like the one on the right.
On the other hand those millions of tiny pebbles, when you weigh them, don't weigh that much. Medium sized stones are heavier but the largest boulders are much heavier still. So with that you get a graph of the weight of each stone versus its size, as shown again on the right.
You can combine this information by calculating the total weights of all the sizes of stones collected.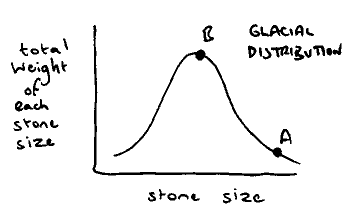 This involves multiplying the number of stones of each size by the average weight of each stone of any size. What you get is the bell curve graph of the weight of all the stones in one size fraction vs stone size like that shown here.
Ice sheets lose
"So what?" I hear you say. Well it's simple. If you plo
t the distribution of all the bluestones or related stones on Salisbury plain it would have one big spike. This represents the large, and relatively similar in size, bluestones of Stonehenge. There may also be a couple of small spikes for those smaller stones found in local burial sites. Importantly, it doesn't look like the ice sheet dump distribution.
So perhaps someone cleared the rest of the bluestones away. There are two clear arguments against this.
If the bluestones were the biggest stones deposited by the ice sheet (A on the bell curve) then there should be absolutely thousands of smaller bluestones lying around. Their aren't. Even if farmers had subsequently collected the medium size stones for use in walls and houses (and there's no evidence of this) there would still be masses of pebbles lying around. Their aren't.
Alternatively, if the bluestones were the "average" stone size (B on the bell curve), then there should be much larger stones lying around. There aren't. Perhaps the Stonehenge builders chopped these larger stones into bits. Maybe. Whatever, even in this cas you'd still find a large number of pebbles lying around. You don't.
Notably, the Neolithic long barrows of Salisbury Plain, which are older than Stonehenge, do not include one single one of these theoretical, very large bluestone boulders in their construction. For that matter they include only one recorded "Welsh" stone, the small boulder of Boles Barrow. Indeed, for that matter, they don't include any sarsens either (these lines modified slightly 17th April 2010, due to a comment which suggested they needed clarification).
In North Wiltshire and the Coltswolds, similar long barrows always used local stone in their construction if it was available. It seems odd that the builders of Salisbury Plain perversely chose not to use the handy bluestones of Salisbury Plain. But that's probably because they weren't there yet.
People win… at least partly
Reluctant as I am to say it, it's time to give up on the idea of a glacier reaching Salisbury Plain carrying its bluestone bounty. People must have been involved in getting the stones to Salisbury Plain. I have no idea how they did it but just fact that they did makes the people of Neolithic Britain pretty smart (and unbelievably determined), in my opinion.
But whether an ice sheet carried carried the stones part of the way from Pembrokeshire, maybe to the Somerset plain… hmm. That's another argument that I'll leave alone for the moment.
References
Atkinson, R.J.C. 1956 Stonehenge, Pelican, pp221
Burl, A. 2006 A brief history of Stonehenge, Robinson, pp368
John, B. 2008 The Bluestone Enigma – Stonehenge, Preseli and the Ice Age, Greencroft, pp160
Acknowledgements