An attempt to use a world map to predict where the origins of agriculture should be.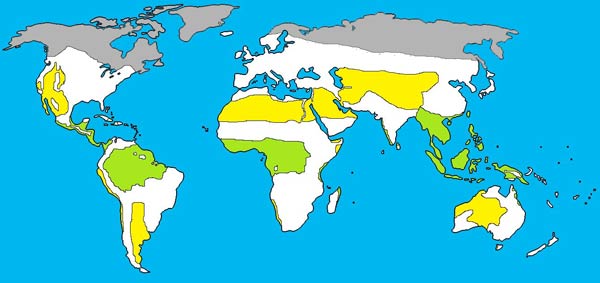 The environmental map shown here is of the early Holocene world (between about 10000 and 5000BC). The coastlines approximate those of the time. Green represents areas of thick tropical forest. Yellow represents arid or desert areas. I considered these to be two areas difficult for humans to travel through. For tropical forest this is due to regrowth of forest. For deserts this is due to lack of resources. The grey areas show approximate present day limits of farming.
Agriculture is known to have developed between the earliest and middle Holocene in particular centres across the the world. Four main locations have been picked out. In the Old World these are the Middle East (around 9000BC), Papua New Guinea (around 8000BC), China (around 7500BC). In the New World these are Mesoamerica (perhaps 6000BC) and the Andes (around 5000BC). I should also mention the domestication centre in West Africa, although this is dated a little later, although its age and location are currently very uncertain.
Guessing centres of domestication
The aim of this post is to put in practice a theory which says agriculture will develop at the heads of bottlenecks between large continental landmasses. My current argument why is to say that people will concentrate and settle at these locations. This is because long-distance exchanged or traded items tend to pass through these locations. This makes them desirable for the acquisition of trade goods (see Trade and farming if you can be arsed). However, I could come up with a different argument tomorrow.
Anyway that's the theory. Adding dots to the map where I think I see heads of bottlenecks produces this.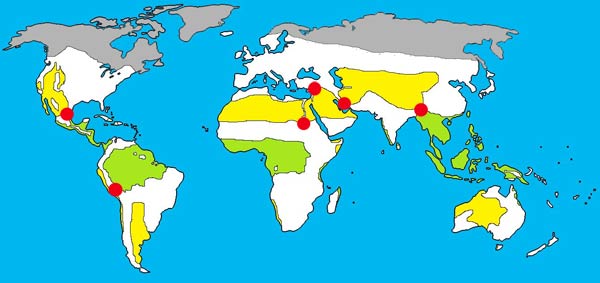 Compare this to the currently known centres of early domestication in the New and Old Worlds.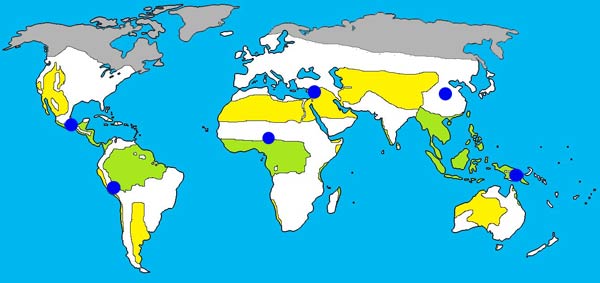 Some of these points correspond reasonably which currently recognised centres of early domestication. For example the Middle East, Mexico and Peru both have centres of early domestication and these are marked. However, China and Papua New Guinea also have recognised centres of domestication and these are not marked.
So it's some you win some you lose really. In future posts I shall discuss some of these centres in more detail.
Any thoughts gratefully received.
References
Johnathan Adams – Global land environments since the last interglacial
Bahn, P. (ed) 2000 The Atlas of World Archaeology, Sandcastle, pp208
Barker, G. 2009 The Agricultural Revolution in Prehistory: Why Did Foragers Become Farmers?, Oxford, pp616